CLACTON
Billy Butlin opened his second Holiday Camp at Clacton in 1938.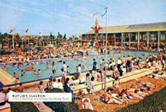 Following his success with the Skegness Camp. Butlin found the ideal site when the West Clacton Estate, consisting of some miniature golf courses and boating lakes, came up for sale in 1936. In 1937 he opened a fun fair on the site and then the holiday camp following in 1938.

The camp was opened the same year the Holidays With Pay act was passed by Parliament. This guaranteed all industrial workers at least one week's paid holiday per year.

Butlin therefore opened his new camp with the slogan, Holidays with Pay. Holidays with Play! A week's holiday for a week's pay.
The cost of a week's holiday at Clacton was equivalent to the average industrial wage at the time - £3.10s

War put a stop to holiday activities in 1939, with the government requisitioning the camp for use by the Army as a POW camp, although this never happened. After the war the camp was handed back to Butlins and after repairs to the damage acquired during the war the camp reopened in 1946.

Like Skegness, Clacton was an instant success being fully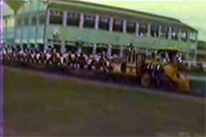 booked almost all season. Partly owing to the up and coming entertainment from the now household names like Dave Allen, Roy Hudd, Des O'Connor, and of course, Cliff Richard, who made his first professional appearance at Butlin's Clacton in 1958.